Vancouver, BC – KLONDIKE GOLD CORP. (TSX-V: KG)) is pleased to announce additional new gold exploration results on Lone Star property, Yukon Territory, for Nugget and Upper Eldorado Creek sampling as well as further results strengthening the Violet to 310 vein trend.
Exploration Highlights:
– Nugget grab samples of 179 g/t Au with 78 g/t Ag (30g fire assay with gravimetric over limit)
– Upper Eldorado grab samples of up to 98.8 g/t Au with 20.7 g/t Ag (ICP Analysis)
– Violet to 310 zone (Violet ridge) trend advancement
Site investigation by the Company's technical team has found that the trend of the upper Nugget zone can be extended on surface. Select samples were collected including a grab sample of 179 g/t Au with 78 g/t Ag (30 g fire assay with Gravimetric over limit). Results support future drilling to test the Nugget zone at depth and along strike towards the Buckland zone quartz veins. Active placer mining in Oro Grande Gulch suggests a source for gold in the area where the Buckland and Nugget zones are assumed to intersect, however previous operators have allocated little work to linking the zones. Exploration for the purpose of linking the Nugget and Buckland zones will be an endeavour of the Company in the 2013 exploration season.
The Company views the possibility of high grade quartz veins over this 1000 meter strike length as being very positive. Both the Nugget and Buckland zones have significant high grade results from work preformed the Company and by previous operators. Some of which are tabulated below:
Table 1: Previous Nugget Zone and Buckland Zone Results
| Nugget Zone Bulk Sampling | Weight of Sample (kg) | Grade (g/t Au) |
| --- | --- | --- |
| 05NZ-B7-A | 1886 | 6.46 |
| 05NZ-B4-B | 2769 | 8.61 |
| | | |
| Nugget Zone Drilling | Interval (meters) | |
| 06NZ02 | 28.9 to 29.9 | 98.68 |
| 06NZ03 | 25.6 to 26.5 | 30.15 |
| | | |
| Buckland Zone Drilling | Interval (meters) | |
| 07BU03 | 6 to 8 | 4.785 |
| 07BU03 | 19 to 21 | 13.48 |
| including | 20 to 21 | 22.6 |
| 07BU03 | 26 to 27 | 4.51 |
| 07BU04 | 51 to 53 | 8.59 |
| including | 52.0 to 52.5 | 24.9 |
An unspecified amount of wall rock was included in the bulk samples likely diluting grade Source of Results: NI 43-101 Technical Report filed with SEDAR December 16, 2011
Prospecting in the vicinity of Upper Eldorado Creek was conducted in early September 2012. This area was selected for its lithological and gold chemistry similarities to the Boulder Lode, historical anomalous results, as well as significant unexplained placer gold with grain morphology pointing to a proximal source. The Company was encouraged by samples of visible gold in two locations separated by approximately 100 metres. In one specimen the visible gold hosted in a quartz vein is filling a void and is best described as a hackly nugget approximately 0.6 centimeter across (Figure 2). The veins can be seen in historic trenches however trench floor sampling in the early 1990s did not sample these veins which were in the wall of the trench. The veins visible in the trenches were a stacked system of up to five north dipping veins over two to three meters true width. Assays from the veins (not including the visible gold specimens) show up to 98.8 g/t Au with 20.7 g/t Ag in ICP analysis with fire assay results pending. Of the 28 Upper Eldorado Creek prospecting samples the average grade was 4.22 g/t Au, with 6 samples in the set over 1 g/t Au. Trenching and mapping of these vein systems will be a goal of the 2013 exploration season.
Figure 2: Visible Gold at Upper Eldorado Creek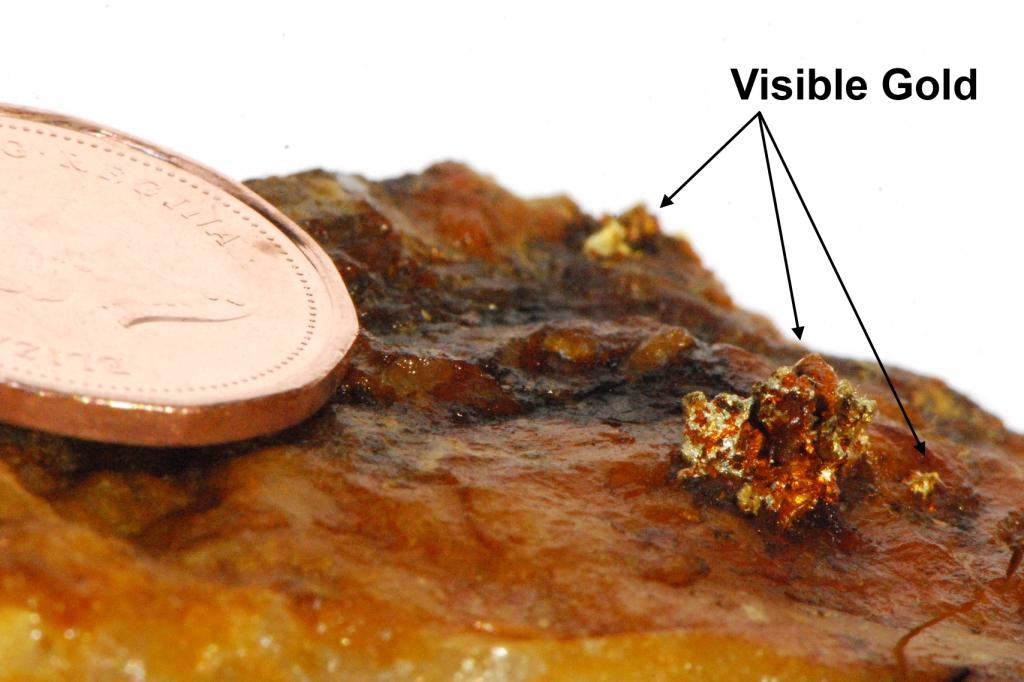 On Violet Ridge, Violet to 310 zone trend exploration continued into September 2012 with the addition of an infill soil line and targeted prospecting along the trend. The results of this work in addition to further research on historical results have better defined the Violet to 310 zone mineralisation. The mineralisation appears to be in at least two parallel trends with both showing sharp soil anomalies of 20 to 100 ppb Au. The four plus kilometer extent of the Violet vein system to 310 zone with the possibility of high grades make this an attractive target for the Company (Press Release: September 20, 2012: Klondike Gold Samples 47.4 g/t Gold and 894 g/t Silver along the Violet Vein Trend). An updated summary map of 2012 and compiled historic results is provided in Figure 3.
Figure 3: Violet Trend Map of Combined 2012 & Historic Exploration Results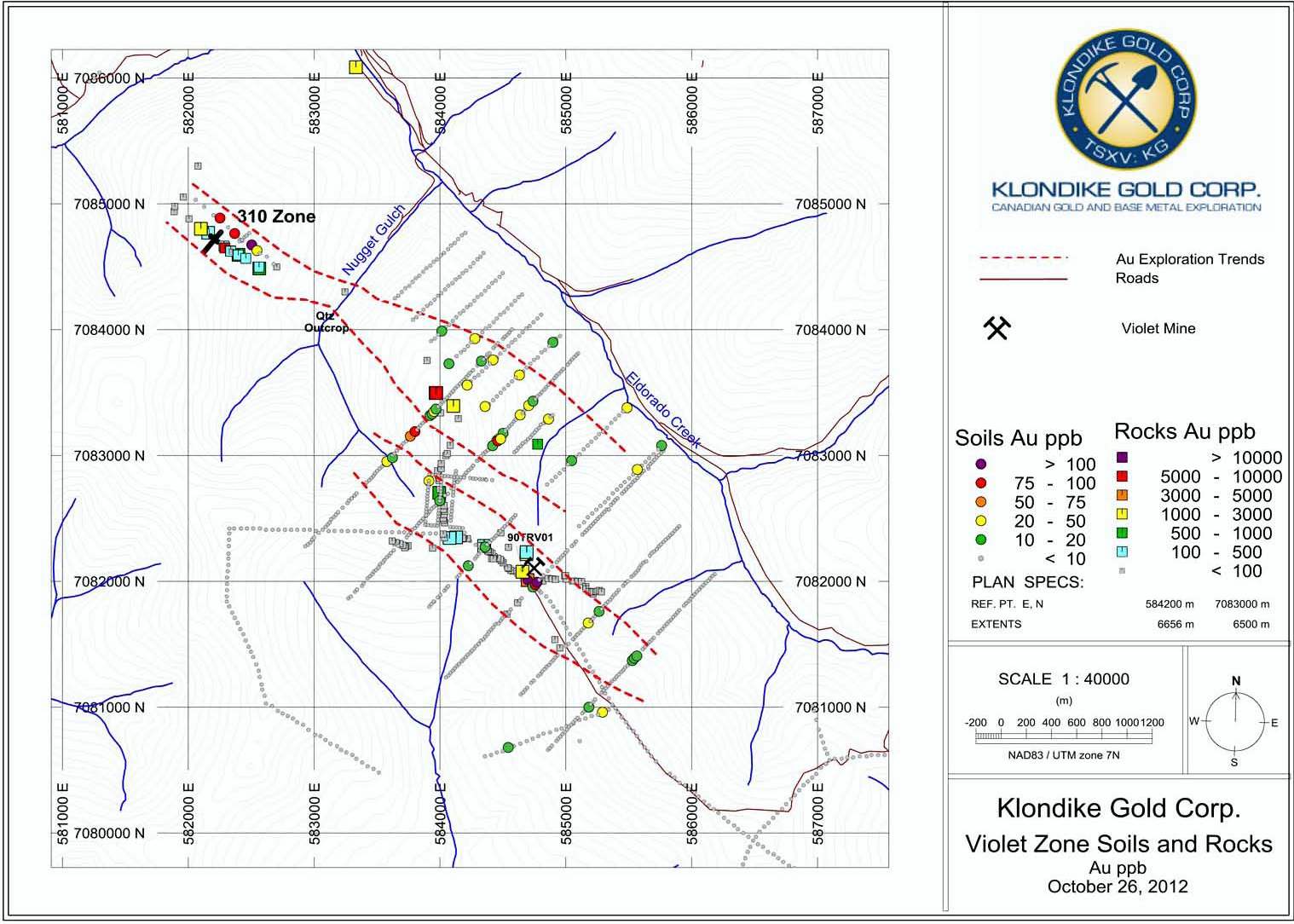 Project Geologist Katie Dodd commented "These results illustrate the multiple target potential of the 137.6 square kilometer Lone Star Property and the constructive use of compiled exploration data in focussing exploration." The Company looks forward to further systematic exploration of Lone Star Property gold mineralisation in 2013.
T. Liverton, PhD., C. Geol, F.G.S. is the qualified person for the purposes of this news release.
About Klondike Gold Corp.
Klondike Gold Corp. is a Canadian exploration company with offices in Vancouver, British Columbia and Dawson City, Yukon. The Company is focused on the development of its Yukon and British Columbia gold properties. In addition the Company holds a large portfolio of base metal projects in southeastern British Columbia.
CONTACT INFORMATION
Inquiries: Erich Rauguth, President & CEO 604-685-2222
Email: info@klondikegoldcorp.com