Vancouver, BC – KLONDIKE GOLD CORP.(the "Company") (TSX-V: KG) (the "Company") is pleased to announce that its 2012 field exploration season in the Yukon has provided encouraging results and direction for the 2013 season. This year has been the first year that consistent exploration on the property has been conducted since 2007 and by compiling the historic and more recent exploration data with this year's results our team has obtained important new insights into the structure and geology of the Lone Star ridge. This will in assist our objective of bringing the considerable gold occurrences on the property into a recognizable resource format.
Exploration Highlights
– Boulder Lode open cut results of 1.86 g/t Au on vertical channel samples of a 5 meter high by 25 meter long wall, including 9.43 g/t Au over 2.5 by 4.2 meters of the excavation and significant advances in understanding of the structural and lithologic control on gold mineralisation
– Pioneer Zone diamond drilling results of 0.65 g/t Au and 1.65 g/t Ag over 11.6 meters at a depth of 20.4 to 32.0 meters, including 2.10 g/t Au and 6.8 g/t Ag over 1.5 meters
– New JF Zone trenching results of 1.75 g/t Au over 10.2 meters
– Nugget zone mapping and extension
Exploration of the Lone Star Property in 2012 has focused on defining and understanding historical mining areas of the Boulder Lode open cut, the Pioneer, and the Violet as well as known gold occurrences at varying degrees of exploration development most notably JF, Nugget to Buckland trend, and recently discovered Boy (Figure 1). The approach was to systematically build on pre-existing work compiled into usable datasets through data review while developing new ideas and models with the support of expert consultants to guide future exploration.
Figure 1: Lone Star Property Map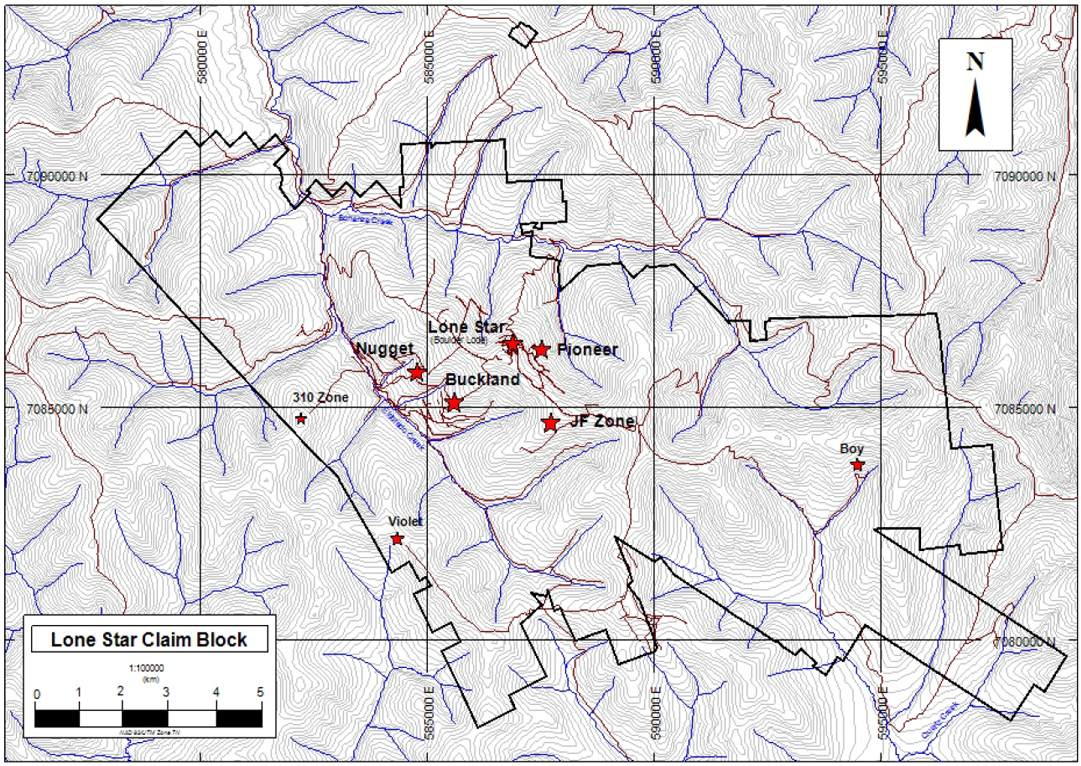 New understanding of the mineralisation at the Boulder Lode has been facilitated by the excavation and sampling of the 100 year old open cut in summer 2012 and by structural and lithological mapping by academic consultants Dr. Doug Mackenzie and Dr. Jim Mortensen. Structure contouring and lithological mapping used previous drilling and trench data to generate an exploration model that shows gold enrichment in a subunit of the Klondike schist on the anticlines (structural high points) of undulating D2 and D3 folding on a 100 to 200 meter scale. Late D4 extensional deformation appears to have preferentially mineralised these anticlines. This has implications for new target areas to the east and north of the Boulder Lode (Figure 2) that will be investigated during the remainder of the 2012 exploration season.
Figure 2: Lone Star with Boulder Lode Structural Contour and Lithology Map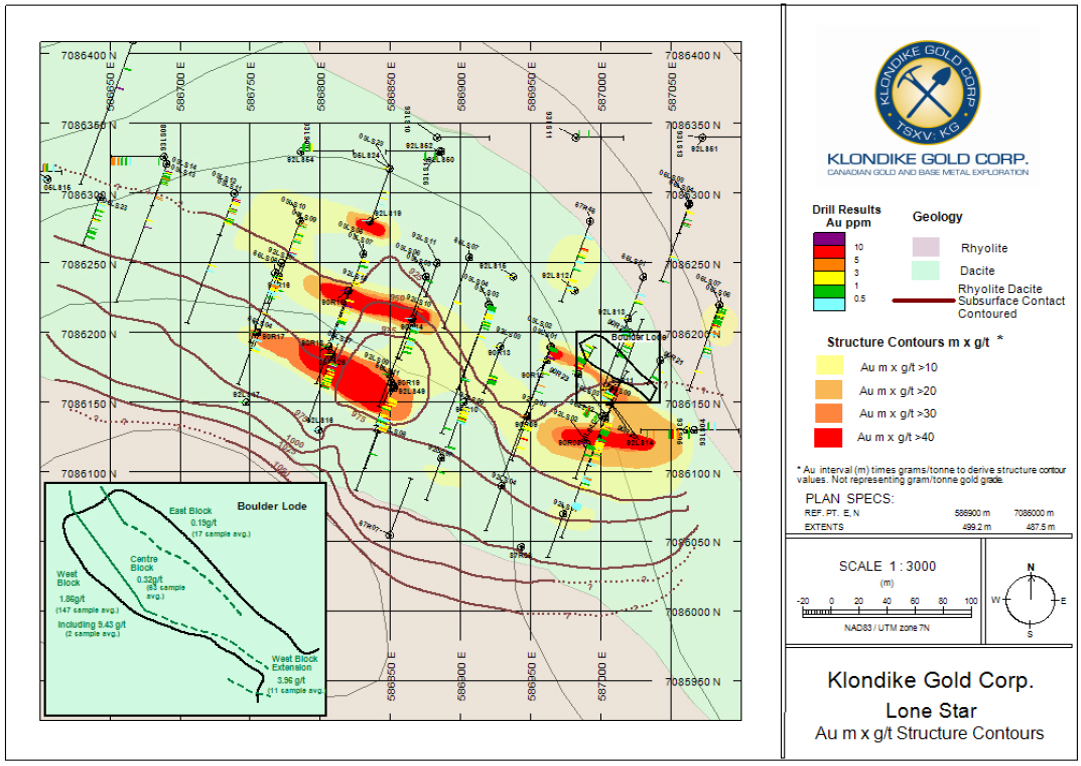 Sampling of the Boulder Lode open cut was conducted in 3 sections; the West Block, the Centre Block, and the East Block which were divided based on geologic grounds, not grade. Continuous vertical channels on the walls of the excavation were cut every 1.5 meters to measure the grade. The West Block exposed significant and continuous quartz veining and showed averaged results of 1.86 g/t Au (147 vertical channel sample average) over a 6 by 25 meter wall area, including 9.43 g/t Au over a 2.5 by 4.2 meter area. The West Block contains previously released grab sample 1719053 that ran 41.3 g/t Au which was excluded from these averaged channel sample results. The higher grade of the West Block agrees with the structural interpretation where higher grade intervals are expected to the southwest of the Boulder Lode. Between the West Block and the West Block Extension 35 meters was not sampled due to debris obscuring the wall. This will be a priority for future sampling. Results are for 30 gram fire assay using methods consistent with the company's sampling procedures (Press Release: March 08, 2012 Klondike Gold Reports Initial Results from its Fall 2011 Yukon Work Program). Calculations weighted channel samples by length so as not to improperly influence averages with any short high grade intervals. Boulder Lode sampling results are summarised below.
Block
Area of Sample
(meters)
Number of Samples
Average Grade
Au g/t
West Block
6 x 25
147
1.86
including
2.5 x 4.2
8
9.43
with high channel over 2.05 m (2 samples) of 14.10
and
1.8 x 2.5
5
7.15
with high channel over 1.75 m (2 samples) of 7.37
and
3.3 x 8
26
3.25
with high channel over 1.45 m (2 samples)of 22.76
West Block Extension
2 x 8
11
3.96
with high channel over 2.34 m (2 samples)of 6.52
Centre Block
4 x 19
63
0.32
East Block
4 x 4
17
0.19
Geotechnical drilling in the Pioneer zone southeast of the Boulder Lode was conducted in April and May to increase geological understanding of the relationship of the Boulder Lode to the Pioneer as well as to test Induced Polarization geophysical anomalies to the north of the Pioneer zone. Drilling intersected 0.65 g/t Au and 1.65 g/t Ag over 11.6 meters including a best sample of 2.10 g/t Au and 6.8 g/t Ag over 1.5 meters in hole 12DDH002 which is likely a weaker continuation of the Boulder Lode mineralisation. The program provided insights for future exploration; a stronger IP anomaly north of 12DDH003 is a possible target when taken in context of new lithological and structural understanding of the Boulder Lode. The stronger of the two anomalies was not drilled due to access issues during the early spring thaw. Program results are for 30 gram fire assay and are summarised below.
Hole ID
Location
Azimuth, dip
Notes
Core Interval (meters)
Interval Length (meters)
Average Grade Au g/t
12DDH001
7V 587398, 7085966
25.5-42.5
17.0
0.34
0°, -90°
including
28.5-30.0
1.5
0.79
12DDH002
7V 587353, 7085830
15.5-17.0
1.5
1.95
197°, -71°
20.4-32.0
11.6
0.63
including
23.0-24.5
1.5
1.13
and
24.5-26.0
1.5
2.10
65.0-66.5
1.5
2.21
12DDH003
7V 587505, 7085896
44.0-45.5
1.5
1.68
20°, -47.5°
53.0-57.5
4.5
0.97
143.0-144.5
1.5
3.12
173.0-174.5
1.5
1.40
IP target
240.5-249.5
9.0
0.15
12DDH004
7V 587504, 7085887
90.5-92.0
1.5
1.43
200°, -46.5°
The JF zone trench from 2006 was extended with a further 100 meters of new trenching. The new trench gave results of 1.75 g/t Au over 10.2 meters across mineralised structures at the west most section of the trench. High sample intervals within the mineralised zone were 1.64 meters of 4.04 g/t Au and 1.1 meters of 4.05 g/t Au. Further work perpendicular to the trench along this mineralised trend is recommended for the 2013 season.
The Nugget zone was trenched and drilled by previous operators; past results include 2769 Kg bulk sample 05NZ-B4-B which ran 8.61 g/t Au and 1886 Kg bulk sample 05NZ-B7-A which ran 6.46 g/t Au and 2006 diamond drill holes 96NZ02 and 96NZ03 which had results of 98.68 g/t over 0.90 meters and 30.15 g/t Au over 0.90 meters respectively (NI 43-101 Technical Report filed with SEDAR December 16, 2011). Site investigation by the Company's technical team has found that the trend of the upper Nugget zone can be extended on surface. Select samples were collected for the purpose of supporting future drilling to test the Nugget zone at depth and along strike towards the upper Buckland zone quartz veins.
The Violet to 310 zone trend was investigated with mapping, prospecting, soil sampling, and rock sampling as was the recently discovered Boy zone soil anomaly. Both targets have lab results pending.
President Erich Rauguth commented on the 2012 exploration season "The Lone Star Property is being systematically advanced through solid technical and scientific exploration. We have faith that even in difficult market conditions investors will reward active, high-quality, and transparent gold explorers."
T. Liverton, PhD., C. Geol, F.G.S. is the qualified Person for the purposes of this news release.
About Klondike Gold Corp.
Klondike Gold Corp. is a Canadian exploration company with offices in Vancouver, British Columbia and Dawson City, Yukon. The Company is focused on the development of its Yukon and British Columbia gold properties. In addition the Company holds a large portfolio of base metal projects in southeastern British Columbia.
CONTACT INFORMATION
Inquiries: Robert A. Young 604-685-2222 (Ext 398)
Email: info@klondikegoldcorp.com
or
Erich Rauguth, President & CEO 604-685-2222
Neither the TSX Venture Exchange nor its Regulation Service Provider (as that term is defined in the policies of the TSX Venture Exchange) accepts responsibility for the adequacy or accuracy of this press release. Statements in this 12.0724 press release, other than purely historical information, including statements relating to the Company's future plans and objectives or expected results, may include forward-looking statements. Forward-looking statements are based on numerous assumptions and are subject to all of the risks and uncertainties inherent in resource exploration and development. As a result, actual results may vary materially from those described in the forward-looking statements.