Vancouver, British Columbia, Canada, February 16, 2023, Klondike Gold Corp. (TSX.V: KG; FRA: LBDP; OTCQB: KDKGF) ("Klondike Gold" or the "Company") is pleased to announce that it has entered into a Property Acquisition Agreement with C2C Gold Corp. ("C2C") for the purchase, by Klondike Gold of a 100% interest in C2C's "Quartz" and "Sulphur" properties comprised of 689 mining claims covering 143 square kilometers located in the Dawson mining district, Yukon, Canada (the "Property Acquisition Agreement").
Upon completion of this transaction, Klondike Gold will have expanded its Klondike District Property land position covering the prospective Klondike goldfields with direct ownership of a total of 3,913 quartz claims (increased from 3,078) in one contiguous district-encompassing property covering a 727 square kilometer area (increased from 585), expanding the property area by 27%.
In return for the acquisition by Klondike Gold of a 100% interest in C2C's Quartz and Sulphur properties, plus 12 years of exploration data, the terms of the Property Acquisition Agreement are as follows:
Issuance of 1,000,000 common shares of the Company to C2C; and
The granting to C2C of a 1% net smelter returns royalty ("NSR Royalty") in respect of C2C's Quartz and Sulphur properties, of which Klondike Gold may purchase one-half of the NSR Royalty (being a 0.5% NSR Royalty) from C2C for cash in the amount of $500,000 at any time. The Quartz and Sulphur properties each have underlying 2% NSR Royalty obligations where Klondike Gold has the right to purchase one-half (or 1%) of each NSR Royalty for one million dollars ($1,000,000) cash and has a right of first refusal to purchase the remaining 1%.

Peter Tallman, Klondike Gold's CEO, states "We welcome the opportunity to consolidate our land position covering the prospective southeast side of the Klondike District into one contiguous district-spanning claim group. The claim package will allow systematic exploration, evaluation and ranking of gold targets across the district with geological understanding of variations and potential zonation.  Klondike Gold believes there is significant potential for multiple discoveries and this consolidation will allow the greatest opportunity for testing the best possible targets."
A map of Klondike Gold's consolidated land position is shown in Figure 1.
The Property Acquisition Agreement is subject to final approval of the TSX Venture Exchange.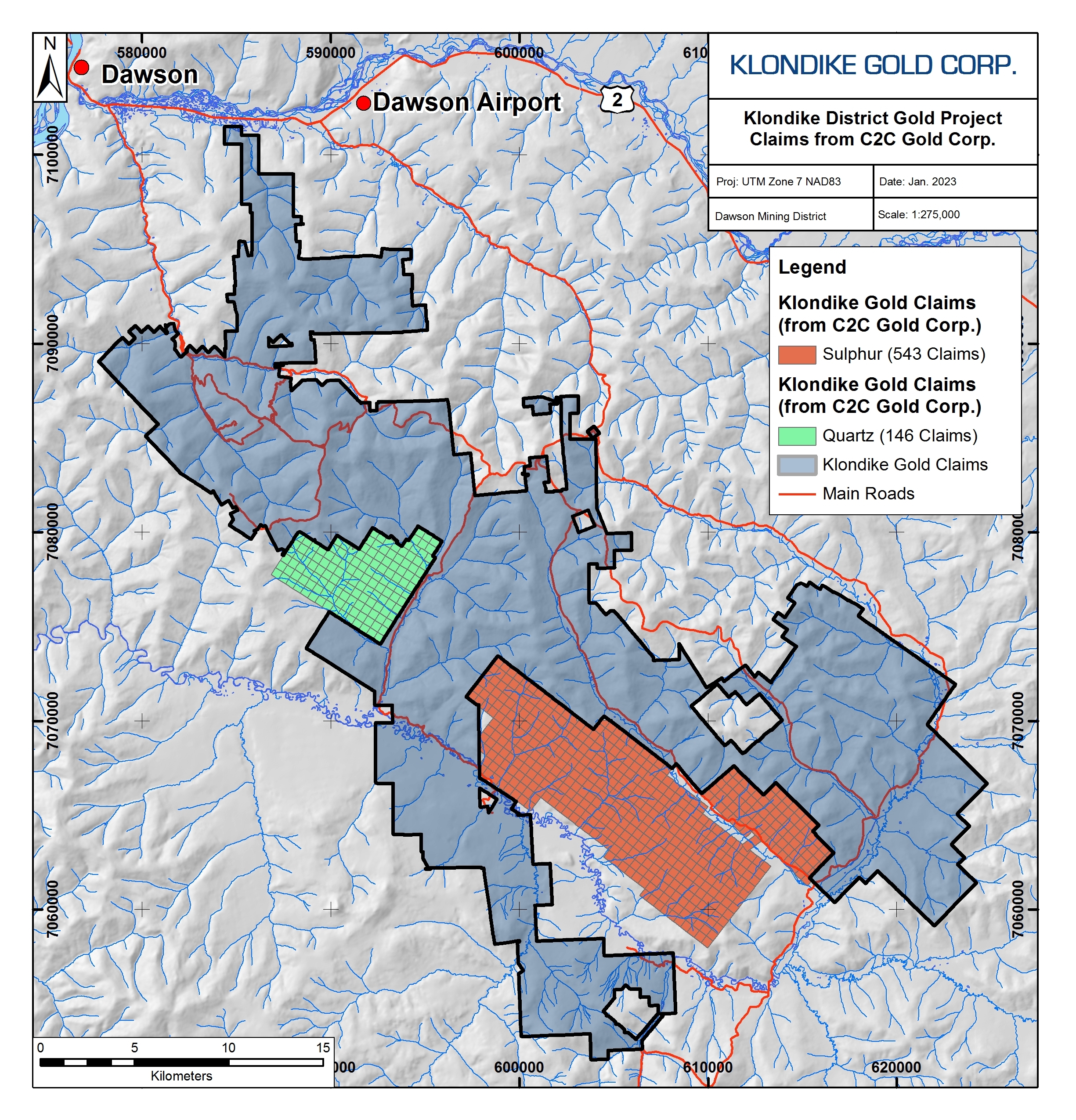 Figure 1:  Klondike Gold's consolidated land position
UPCOMING EVENTS
Klondike Gold will be participating in the following recent or upcoming events:
Whistler Capital Event Conference (Whistler, BC) – February 10 to February 12, 2023
PDAC (Toronto, ON) – March 5 to March 8, 2023
PDAC (Toronto, ON) – PDAC-SEG Student Minerals Colloquium: 3 Research Poster Displays
All events are subject to change.
QUALIFIED PERSON
The technical and scientific information contained within this news release has been reviewed and approved by Peter Tallman, P.Geo., President and CEO of Klondike Gold and Qualified Person as defined by NI 43-101 policy.  Detailed technical information, specifications, analytical information and procedures can be found on the Company's website.
ABOUT KLONDIKE GOLD CORP.
Klondike Gold is a Vancouver based gold exploration company advancing its 100%-owned Klondike District Gold Project located at Dawson City, Yukon, one of the top mining jurisdictions in the world.  The Klondike District Gold Project targets gold associated with district scale orogenic faults along the 55-kilometer length of the famous Klondike Goldfields placer district.  Multi-kilometer gold mineralization has been identified at both the Lone Star Zone and Stander Zone, among other targets.  The Company has identified an Initial Mineral Resource of 469,000 Indicated and 112,000 Inferred gold ounces1, a milestone first for the Klondike District. The Company is focused on exploration and development of its 727 square kilometer property accessible by scheduled airline and government-maintained roads located on the outskirts of Dawson City, Yukon, within the Tr'ondëk Hwëch'in First Nation traditional territory.
1 The Initial Mineral Resource Estimate for the Klondike District Property was prepared by Marc Jutras, P.Eng., M.A.Sc., Principal, Ginto Consulting Inc., an independent Qualified Person in accordance with the requirements of NI 43-101. The technical report supporting the Mineral Resource Estimate entitled "NI 43-101 Technical Report on the Klondike District Gold Project, Yukon Territory, Canada" has been filed on SEDAR at www.sedar.com effective November 10, 2022. Refer to news release of December 16, 2022.
ON BEHALF OF KLONDIKE GOLD CORP.
"Peter Tallman"
Peter Tallman,
President and CEO
FOR FURTHER INFORMATION
Telephone:  (604) 609-6138
E-mail: info@klondikegoldcorp.com
Website: www.klondikegoldcorp.com
Neither the TSX Venture Exchange nor its Regulation Services Provider (as that term is defined in the policies of the TSX Venture Exchange) accepts responsibility for the adequacy or accuracy of this release.
Certain statements contained in this news release constitute "forward-looking statements". When used in this document, the words "anticipated", "expect", "estimated", "forecast", "planned", and similar expressions are intended to identify forward-looking statements or information. These statements are based on current expectations of management, however, they are subject to known and unknown risks, uncertainties and other factors that may cause actual results to differ materially from the forward-looking statements in this news release. Readers are cautioned not to place undue reliance on these statements. Klondike Gold does not undertake any obligation to revise or update any forward-looking statements as a result of new information, future events or otherwise after the date hereof, except as required by securities laws.