Vancouver BC – Klondike Gold Corp. ("the Company") is pleased to announce the results of exploration conducted during the summer of 2012 on its Hughes Range Property. This property is one of thirteen properties in British Columbia held by the Company, and is located 20 km northeast of Cranbrook in southeastern B.C. Activity was focused mainly on a new exploration target, disseminated and fracture controlled copper mineralization in Fort Steele quartzites. As well, some prospecting and reconnaissance mapping were done on the sedex Kootenay King lead-zinc deposit on the east side of the property and on known gold and silver vein occurrences farther west. The road accessible Kootenay King deposit mined 13260 tonnes in 1952 and 1953 with recovery of 882,299 g silver, 881,383 Kg zinc, 710,866 Kg lead, and 985 Kg cadmium (BC Minfile 082GNW009).
The Hughes Range Property comprises 32 mineral tenures encompassing 5,759 hectares located along the eastern side of the middle Proterozoic Purcell basin, a well-mineralized sequence of rocks that hosts the Sullivan sedex deposit 20 km west of the Hughes Range, the Couer d'Alene veins in Idaho, and the stratabound copper-silver deposits of Spar Lake and Montanore in Montana. Work this past field season, soon to be released as a provincial government assessment report, discovered a widespread zone of copper sulphide mineralization within a southwest-trending structural corridor that is also marked by Cretaceous intrusive rocks and base and precious metal vein mineralization. Mineralization tends to be focused at the intersection of this corridor with north-trending faults that parallel the Rocky Mountain trench faults. Numerous thin quartz-sulphide veins with multi-gram gold values, the polymetallic Try Again occurrence (BC Minfile 082GNW017) and on the western end, the copper zone, occur within this mineralized corridor. Of 73 exploration rock samples taken in 2012 the highest copper value returned was 0.74 percent and the highest gold value was 2.5 g/t with 12 of 73 samples running above 0.2 g/t gold.
Recommended further work on the Hughes Range property includes an airborne geophysical survey to more clearly identify regional structural controls, geological mapping
Trygve Höy, Ph. D., P. Eng., is the qualified person for the purposes of this news release.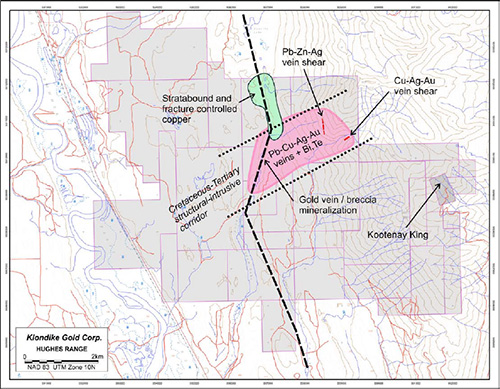 About Klondike Gold Corp.
Klondike Gold Corp. is a Canadian exploration company with offices in Vancouver, British Columbia and Dawson City, Yukon. The Company is focused on the development of its Yukon and British Columbia gold properties. In addition the Company holds a large portfolio of base metal projects in southeastern British Columbia.
CONTACT INFORMATION
Inquiries: Erich Rauguth, President & CEO 604-685-2222
Email: info@klondikegoldcorp.com
Neither the TSX Venture Exchange nor its Regulation Service Provider (as that term is defined in the policies of the TSX Venture Exchange) accepts responsibility for the adequacy or accuracy of this press release. Statements in this press release, other than purely historical information, including statements relating to the Company's future plans and objectives or expected results, may include forward-looking statements. Forward-looking statements are based on numerous assumptions and are subject to all of the risks and uncertainties inherent in resource exploration and development. As a result, actual results may vary materially from those described in the forward-looking statements. 12.1211